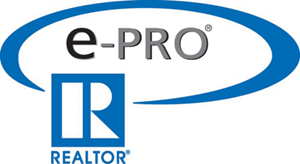 As more and more consumers begin their search for real estate-related information on the Internet, it is critical that real estate professionals stay on top of the latest technology for the benefit of consumers and real estate practitioners alike. The e-PRO Technology Certification Program fills that need.
Realizing the importance of technology training, the National Association of REALTORS® (NAR) created a comprehensive Technology Certification course in 2000. And now that course, e-PRO® , has been completely updated to include information on Social Media and Web 2.0 aspects that is, and will continue, to change the real estate business.
"The real estate industry has undergone a fundamental change over the past five years. Today, more than 85% of all buyers and sellers begin their search online. As an e-PRO® certified agent, Sonia has the knowledge and tools needed to provide her clients with the information they need and the customer service they demand. It is both hi-tech and hi-touch.
The all new e-PRO® certification course -- the only technology certification program offered by NAR -- is designed to prepare real estate professionals to make the most of Internet technology and to identify, evaluate, and implement new Internet business models. The elite group of course graduates represents only four percent of all REALTORS® in the country including Sonia E. Amin of Re/Max Tri-City.
The PRO® certification course is an educational program unlike any other professional certification or designation course available, comprehensive and interactive. It is specifically designed to provide real estate professionals with the technology tools needed to assist consumers in the purchase or sale of a home.
The exclusive e-PRO® certification course is presented entirely online and certifies real estate agents and brokers as Internet professionals. The course is designed to help REALTORS® stay at the leading edge of technology and identify, evaluate and implement new Internet business models.
Once completed, the e-PRO® certified real estate professional joins the ranks of a special community of highly skilled and continuously trained professionals who provide high quality and innovative online-based real estate services. Consumers can identify the e-PRO® through the exclusive e-PRO® Internet Professional logo.
Both the content and the delivery platform were created by the San Diego-based technology company InternetCrusade®. Graduates use the skills they've acquired to provide clients information on properties for sale, local communities, and the local real estate market.
For more information, e-mail Sonia E. Amin at Sonia@SoniaAmin.com or call (626) 536-3135.